This is the fifth production. And the second live recording.
We did it the same way as the last production: we made a summer party,
played some music and recorded all the stuff.
And got this CD.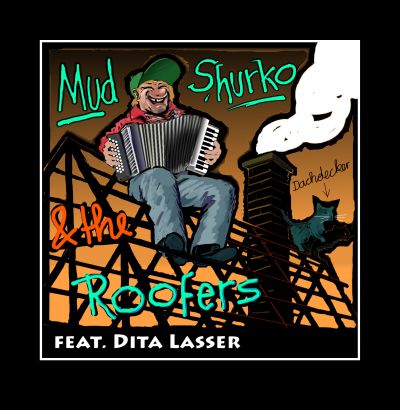 cover illustration by Fredl Hofer

---

This music is very difficult to play because you never know what comes next.




credits:
Dita Lasser
vocals, guitar, e-bass
Mud Shurko
drums, e-bass, guit., synth
Fredl Hofer
guitar, vocals
Pez
guitar
Roswitha Holzinger
ambient harmonica
Robert Oppeneiger
guitar, voc.
Ralf Risser
vocals
Sabine Oppeneiger
vocals
Stefan Oppeneiger
perc.
recorded live Aug. 07/2010
at Cafe Sack, Lembach i.M., Obernort 10
eine Mudshurko production ©2011
---
Diese Aufnahmen entstanden während einer Party anläßlich der Reparatur unseres Veranda-Daches.
Im Sommer 2010 wollte ich endlich unserer Veranda, bekannt unter dem namen Cafe Sack, ein neues Dach geben.
Der Fredl und der Dita haben mir bei der Dachdeckerei geholfen, und meine Kinder Nena und Michael.
Auch konnte ich in dieser Woche mit meiner Frau Paula die silberne Hochzeit feiern. Diese Aufnahmen entstanden dann während einer Party, die wir zur Fertigstellung des Daches angesagt hatten. Wie immer hatte ich dazu einige Gäste geladen, die - ebenfalls wie immer - gebeten waren, nicht nur die vorhandenen Vorräte zu vernichten, sondern auch sich mit am Jam zu beteiligen. So kam es heuer zu denkwürdigen gesanglichen Einlagen von Ralf und Sabine, der Pez hat mir endlich einen Gitarrentrack hinterlassen, und auch ein paar Minuten Roberto hab ich aus den Mitschnitten herausgesäbelt. Stefan hat auf seltsamen, sich langsam auflösenden Holzkonstruktionen eine Percussion eingespielt. Und die Roswitha ihre schon bekannte "Ambient"-Harmonika. Der Fredl war besonders kreativ und hat gleich drei Tracks beigesteuert, auch wenn Sie vielleicht anders ausgegangen sind als er es sich vorgestellt hat. Den Hauptteil hat natürlich - wieder - der Dita eingebracht. Sein neuer kleiner "Nieren"Preamp hat der E-Gitarre diesmal ganz schön spacige Sounds entlockt. Und ich habe live großteils den Bass gezurrt, bis es mir der steigende Alkpegel aus der Hand genommen hat.
Aus einigen Stunden aufgenommenen Materials habe ich dann im Winter 2010/11 diese vorliegend Tracks heraus destilliert, gemischt und letztlich auch mit meinen Overdubs versehen, v.a. Drums und Synth. So ist daraus die zweite MudShurko live-Produktion entstanden, ein Dokument unserer noch immer bestehenden Festkultur (auch wenn diese Festln schon selten geworden sind).
16 Tracks, samt und sämtlich einzigartig und unwiederholbar, völlig frei eingespielt, dem Zufall und dem Moment ausgeliefert.
Ein Stimmungsbild aus dem Cafe Sack, inklusive aller Nebengeräusche. Laut Fredl hörst Du Andy Whorehole Fucktory-AlmdudlWahnsinn, russischer Eisbrecher in Feuerland abgefackelt, elegant Motordrums, Dachlawinen..
Wundere Dich nicht, dass Du beim zweiten und dritten mal Abhören andere Sachen hörst, als beim erstenmal, das ist normal. Du bist nicht der Einzige, dem es so geht.
Das ist alles sehr sonderbar.

These recordings were taken during a party in connection with the repair of our porch roof. In the summer of 2010 I finally wanted to give our porch, known under the name Cafe Sack, a new roof.
The Fredl and Dita have helped me in the roofing, and my children Michael and Nena. Also, I was able to celebrate this week with my wife, Paula, the silver wedding.
These recordings were then done at a party, we had announced the completion of the roof. As always, I had to load some guests - were asked to not only destroy the existing stockpiles, but also with their participation in Jam - also as usual.
So it happened this year to memorable vocal contributions by Ralf and Sabine, the Pez has finally left me a guitar track,
and also a few minutes Roberto I cut out of the recordings. Stefan has recorded a percussion on strange, slowly dissolving wood constructions. And Roswitha their already well-known "ambient" harmonica.
The Fredl was very creative and has contributed three tracks, even if you may be considered differently than he had imagined.
The main part - of course - introduced the Dita again. His new small "kidneys" preamp has coaxed the e-guitar this time pretty spacey sounds. And I live mostly lashed the bass until the increasing Alkpegel put it out of my hands.
From several hours of recorded material I destilled out this tracks in the winter of 2010/11, mixed and finally provided with my overdubs, particulary drums and synth. So is derived the second MudShurko live-production from it , a document of our still existing party culture (even if they have become rare). 16 tracks, all unique and unrepeatable, played entirely free, delivered to the random and the moment. A picture of mood from the cafe Sack, including all the noise.
According Fredl you hear Andy Whorehole Fucktory-AlmdudlWahnsinn, flared russian icebreaker in Tierra del Fuego, elegant motordrums, roof avalanches...
Do not be surprised that you hear listening the second and third time to other things than the first, this is normal. You are not the only one who does it that way.
This is all very strange.