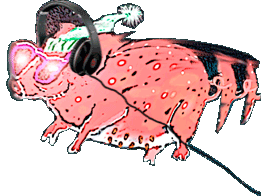 partial download 192 kBit mp3
This is an exeption of my work.
I only used compostions of other guys, most of them famous gigants of jazz- and rock music.
So I cannot give this free for your download - the next exeption - because of the imbecilic copyright acts.
To make this music was for fun, to make my fingers elastic for the next production, the first MudShurko Live-CD "Jazz is not dead".
I made this for our New-Years-Party.
I will open two tracks of this mixture, as an example.
The first track, Love In Vain, written and recorded by Robert Johnson in 1937. Robert Johnson died in 1938, and the copyright over 70 years ended in 2008.
I saw Robert in a dream and he invited me to play with him. I didn't wait for a second invitation, took the track from the original recording, changed the sound for mypurpose and played drums with the Great Robert - yeahhh.
I hope, i will not be flung into prison for this outrage.
The second track i will offer for download is "An Raibh Tu Ag An gCarraig", an irish folk song, sequenced by Barry Taylor.
This song is traditional, without copyright - I hope.
This two songs are not really typical for this CD, most of the material I used are R&B-Songs.
This songs are younger and are "protected" by copyright laws. I don't find this laws are good for the artists, they are only good for the industry.
But I have to respect this.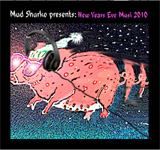 Dies ist eine Ausnahme in meinen Arbeiten.
Ich habe ausschließlich Fremdkompostitionen verwendet, die meisten von berühmten Giganten der Jazz- und Rockmusik-Szene.
Und deshalb kann ich das auch nicht zum freien Download zur Verfügung stellen, wegen der idiotischen Urheberrechtsgesetze (die auch eine völlig unkommerzielle Verwendung verbieten).
Ich habe die Arbeit so zum Spaß gemacht, um mich aufzuwärmen für die eigentlich beabsichtigte nächste Arbeit, das Abmischen des ersten MudShurko Live-Albums "Jazz Is Not Dead".
Es ist so die Musik für unsere Neujahrsparty geworden..
Ich werde beispielhaft zwei Nummern aus der CD zum Download freigeben.
Die erste, Love In Vain, geschrieben und aufgenommen von Robert Johnson im Jahr 1937. Robert Johnson starb 1938, und nachdem die Copyrights 70 Jahre lang nach dem Tod des Künstlers Gültigkeit haben, sollten diese 2008 abgelaufen sein.
Robert Johnson erschien mir in einem Traum und er lud mich ein, einmal mit ihm zu spielen. Das ließ ich mir nicht zweimal sagen. Ich nahm den Track von seinen Original-Aufnahmen, habe diesen soundmäßig ein wenig überarbeitet und dann habe ich Schlagzeug gespielt - zusammen mit Robert Johnson, yeahh!
Ich hoffe, ich werde nicht ins Kittchen geworfen wegen dieser Freveltat.
Die zweite Nummer, die ich zum downloaden hier her lege, ist "An Raibh Tu Ag An gCarraig", ein altes irisches Volkslied, das Barry Taylor in ein midi-File gesequenced hat. Dieses Lied ist ein Traditional, damit ohne Copyright - so hoffe ich wenigstens.
Die beiden Songs sind zwar nicht wirklich repräsentativ für die CD, denn das meiste des verwendeten Materials kommt aus der R&B-Ecke.
Nur sind eben diese Songs entsprechend jünger und unterliegen damit dem Schutz durch die Urheberrechtsgesetze.
Ich finde diese nicht wirklich positiv für die betroffenen Künstler, vielmehr schon für die Musikindustrie.
Aber ich habe das zu respektieren.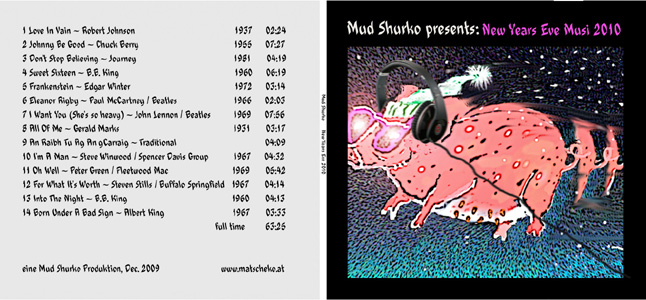 | | | | |
| --- | --- | --- | --- |
| 1 | | 3.396 kB | 02:24 |
| 2 | Johnny Be Good | | 07:27 |
| 3 | Don't Stop Believing | | 04:19 |
| 4 | Sweet Sixteen | | 06:19 |
| 5 | Frankenstein | | 03:14 |
| 6 | Eleanor Rigby | | 02:03 |
| 7 | I Want You (She's So Heavy) | | 07:56 |
| 8 | All Of Me | | 03:17 |
| 9 | | 5.845 kB | 04:09 |
| 10 | I'm A Man | | 04:32 |
| 11 | Oh Well | | 05:52 |
| 12 | For What It's Worth | | 04:14 |
| 13 | Into The Night | | 04:13 |
| 14 | Born Under A Bad Sign | | 3:33 |
| | total time | | 63:25 |
credits:
Mud Shurko:
drums, perc, ac-guitar, e-bass, keyboard
Dita Lasser:
bass on( 8)
recorded with Lexicon Omega and Cubase5
Dez. 2009
Eine Mudshurko Production
© 2009
www.matscheko.at
---