full download 192 kBit mp3
When I finished "Unspent Despair" in springtime 2009, there was a lot of soup left over. Enough, to continue into the next project. And so here is, only few months later, the next, third album.
I call it "Mysterious Roots, Strange Fruits", because I helped myself generously with several alien materials.
One part descends from the Ixthuluh archive. I filtered some guitar or flute parts out and overdubbed with new drums and basslines.

Other roots I'm finding in the inexhautible internet. Again and again nice people put their work into the net as midi-files, and one can work with this.
Many thanks to Doug McKenzie, Eric Marquez, Franz Fuchs und John Whitney, who permitted to to use their files.
I saw John Davis 1973 in Linz at Arbeiterkammer solo on piano, and I played one track from his LP over the guitar-amp, recording this new with microphone and overdubbing the record with drums an bass.
And the Hofer Fredl played enlisted into the microphone.
I got a wild mixture actually, strange fruits, sweet and maybe toxic.
"Donna Lee" is a bebop jazz standard based on the traditional jazz standard "(Back Home Again in) Indiana". Charlie Parker and Miles Davis quarreled about the authorship, though using old ideas.
When this is good for these titans, it should be no problem for me to do so and to pull this song through my mud.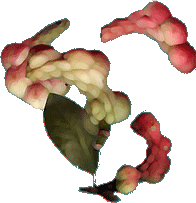 Als ich im Frühjahr 2009 die "Unspent Despair" fertiggestellt habe, blieb eine Menge Material übrig. Genug, um sofort weiterzumachen.
Und so liegt schon wenige Monate später das neue, dritte Album vor.
Ich nenne es "Mysterious Roots, Strange Fruits", ganz einfach deshalb, weil ich mich wild an allerlei "Fremdmaterial" bedient habe.
Ein Teil kommt aus dem Ixthuluh-Archiv. Ich habe daraus einige Gitarren-oder Flöten-Soli herausgefiltert und nun mit neuen Drums und Basslinien überarbeitet.
Andere Roots finde ich auch im Internet, dieser unerschöpflichen Quelle. Immer wieder stellen freundliche Menschen Ihre Arbeit als Midi-File ins Netz und man kann damit weiterarbeiten.
Vielen Dank an Doug McKenzie, Eric Marquez, Franz Fuchs und John Whitney, die mir erlaubt haben, mit diesen Files zu arbeiten.
John Davis habe ich 1973 in Linz im Arbeiterkammersaal gesehen, und ein Pianosolo aus dieser Zeit habe ich von der LP über den Gitarren-Amp abgespielt und mittels Mikrophon neu aufgenommen.
Und der Hofer Fredl hat mir freiwillig ins Mikrophon gespielt.
Tatsächlich ist daraus eine wilde Mischung geworden, strange fruits, süß und manchmal auch giftig.
Donna Lee ist ein Bebop-Jazz Standard, der auf dem Song "Back Home Again in Indiana" aufbaut. Charlie Parker und Miles Davis haben sich um die Urheberschaft gestritten, obwohl sie die Idee selber abgekupfert hatten. Wenn diese Titanen das so gemacht haben, dann sollte es kein Problem sein, wenn ich das ebenfalls tue und den Song durch den Schlamm ziehe.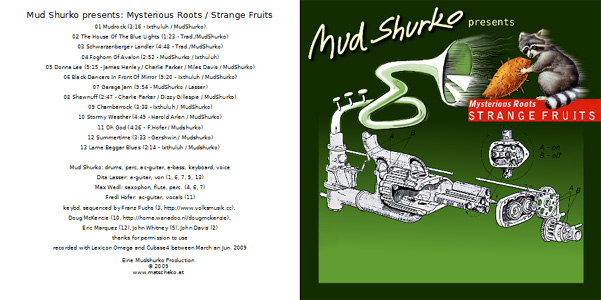 | | | | |
| --- | --- | --- | --- |
| 1 | | 4.603 kB | 03.16 |
| 2 | The House Of The Blue Lights | 1.947 kB | 01:22 |
| 3 | | 6.747 kB | 04:47 |
| 4 | | 4.037 kB | 02:52 |
| 5 | | 7.390 kB | 5:15 |
| 6 | | 13.127 kB | 09:19 |
| 7 | | 13.923 kB | 09:53 |
| 8 | | 3.917 kB | 02:47 |
| 9 | | 5.127 kB | 03:38 |
| 10 | | 6.783 kB | 04:49 |
| 11 | | 6.472 kB | 04:36 |
| 12 | | 4.993 kB | 03:32 |
| 13 | Lame Beggar Blues | 3.150 kB | 02:14 |
| | total time | | 59:01 |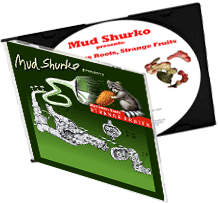 credits:
Mud Shurko
: drums, perc, ac-guitar, e-bass, keyboard, voice
Dita Lasser
: e-guitar, voc. (1, 6, 7, 9, 13)
E.P. Kirch
: bass (13)
Max Wedl
: saxophon, flute, perc. (4, 6, 7)
Fredl Hofer
: ac-guitar, vocals (11)
basic midi files sequenced by:
Franz Fuchs
(3,
http://www.volksmusik.cc
),
Doug McKencie
(10,
http://home.wanadoo.nl/dougmckenzie
),
Eric Marquez
(12),
John Whitney
(5),
John Davis
(2)
thanks for permission to use
recorded with Lexicon Omega and Cubase4
between March an Jun. 2009
Eine Mudshurko Production
© 2009
www.matscheko.at
---
01 Mudrock
(3:16)
Ixthuluh / MudShurko


Für diesen Song habe ich aus den lausig aufgenommenen Ixthuluh-Bändern ein Rock'n'Roll-Solo von Dita Lasser herausgefiltert (ja, Mann, das ist Knochenarbeit!). Bass und Schlagzeug habe ich neu eingespielt.
For this song I filtered out a rock'n'roll guitar solo, played by Dita Lasser, from the awful recorded Ixthuluh tapes (yeah, man, this ist back-breaking work!). I added new my e-bass and drums .
---
02 The House Of The Blue Lights
(1:23)
Trad./MudShurko
Es freut mich sehr, dass mein alter Freund John Davis für diesen Track eine Pianospur beigesteuert hat. Das Original stammt von seiner LP aus dem Jahr 1973. Nachdem ich von diesen rein akustischen Sachen nicht gar so viel halte, habe ich das natürlich ein wenig elektrifiziert und mit meinem Schlagzeug begleitet.
I'm glad for my old friend John Davis, who contributed this piano-track from his 1973 LP. As I think nothing of this only acoustic songs, I electrified this a little, and accomponied it on my drums.
---
03 Schwarzenberger Landler
(4:48)
Trad./MudShurko
Franz Fuchs aus Klosterneuburg hat eine Unmenge an alten Volksliedern gesammelt und als Midi-File ins Netz gestellt. So wie bei John Davis habe ich mich mit dem (hier) digitalen Ausgangsmaterial elektrisch herumgespielt, dann einen Schlagzeug-Track draufgelegt. Den Bass habe ich analog eingespielt.
Franz Fuchs from Klosterneuburg collected tons of alpish traditionals and putted this as midi-files into the web. As with John Davis I fooled around with this (now) digital feedstock, than I added a drum track. The e-bass I played unplugged.
---
04 Foghorn Of Avalon
(2:52)
MudShurko / Ixthuluh


Noch ein Exzerpt aus dem Ixthuluh-Archiv. Max Wedl hat schon damals viel mit seiner Flöte herumexperimentiert. Diese 1979er-Flötenspur habe ich nun nachträglich mit E-Bass und Schlagzeug erweitert.
Another excerpt from the Ixthuluh-archive. Max Wedl messed around a lot with his flute at that time. This 1979-flute-track I completed now with e-bass and drums.
---
05 Donna Lee
(5:15)
James Henley / Charlie Parker / Miles Davis / MudShurko
Ein Midi-File aus dem Internet als Ausgangsmaterial, diesmal ein Bebop-Song, den ein gewisser James Henley schon 1917 komponierte. Charlie Parker und Miles Davis (die sich nie so ganz über die Urheberschaft einigen konnten) haben daraus Donna Lee gemacht. John Whitney hat das Midi-File gesequenzed, und ich habe es durch meine Soundmaschinerie gedreht, mit E-Bass und Schlagzeug erweitert. Ohne jede Rücksicht auf die Originalsounds aus 1947, was vermutlich eh keiner erwartet hätte.
A midi-file from the internet is the basic material, a bebop-song now, composed by James Henley in 1917. Charlie Parker and Miles Davis (who never agreed on the authorship) made Donna Lee from this. John Whitney sequenced the midi file, and I minced it trough my sound machinery, and completed it with e-bass and drums, never considering the originalsound from 1947 - presumably nobody ecpected this from me anyway.
---
06 Black Dancers In Front Of Mirror
(9:20)
Ixthuluh / MudShurko


Ein uralt-Ixthuluh-Jam aus 1976, mit Max Wedl an Flöte und Sax, Dita Lasser an der Gitarre, James Geiblinger am Bass, damals ohne Schlagzeug aufgenommen, nun von mir mit Drums und Percussion erweitert, neu abgemischt - ansonsten aber nahe am Original gelassen.
An aged Ixthuluh jam from 1976, with Max Wedl on flute and saxophone, Dita Lasser on guitar, James Geiblinger on bass, recorded at that time without drums.
Now I added drums and percussion, mixed all new - apart from that the song is near the original version.
---
07 Garage Jam
(9:54)
MudShurko / Lasser
Und noch ein Ixthuluh-Jam, ca. 1980. Diesmal habe ich nur den Gitarrentrack von Dita Lasser übriggelassen, und Bass und Schlagzeug neu drübergespielt.
Another Ixthuluh jam, approx. 1980. I left only the guitar track from Dita Lasser this time, and added e-bass and drums new.
---
08 Shawnuff
(2:47)
Charlie Parker / Dizzy Gillespie / MudShurko


Eine der ersten Bebop-Melodien, die Dizzy Gillespie gemeinsam mit Charlie Parker anfangs der 40er Jahre aufgenommen hat. Mein Song basiert auf einem Midi-Track, den ein unbekannter Sequenzer irgendwo im Internet abgelegt hat. Wie immer in meiner Soundmaschine umgearbeitet, mit Keyboard, E-Bass und Schlagzeug ausgebaut zu der vorliegenden Version.
One of the first bebop tunes, recorded by Dizzie Gillespie with Charlie Parker. My song bases upon a midi from an unknown sequencer, who put this down anywhere in the web. As always adapted in my sound machine, enlarged with keyboard, e-bass and drums to this existent version.
---
09 Chamberrock
(3:38)
Ixthuluh / MudShurko


Eine weitere Ixthuluh-Nummer, aus 1979. Ich habe damals den Bass gespielt, und das Schlagzeug habe ich nun nachträglich darübergelegt. Gitarre spielte Dita Lasser (und etwas Vocals), das Sax stammt von Max Wedl.
Another Ixthuluh track, from 1979. I played bass at that time, and the drums I added now supplementary. Guitar played Dita Lasser (and some vocals), saxophone by Max Wedl.
---
10 Stormy Weather
(4:49)
Harold Arlen / MudShurko


Harold Arlen hat Ende der 20er Jahre diesen Song geschrieben, Doug McKenzie hat ihn als Midi-File gesequenzed und ins Netz gestellt. Ich habe es in meiner Soundmaschine abgemischt, und einen E-Bass draufgelegt, und eine Schlagzeugspur - versteht sich!
Harold Arlen has written this song at the end of the 20s, Doug McKenzie sequenced the material and put it into the web. I mixed this in my sound machine, added e-bass, and drums - that goes without saying!
---
11 Oh God
(4:26)
F.Hofer / Mudshurko
Zu Ostern 2009 hat mich der Hofer Fredl besucht und wir haben einen Song von ihm aufgenommen. Ich habe das Material geschnitten und Bass und Schlagzeug dazu gespielt. Für alle die den Fredl kennen: das ist ein echter Hofer-Song!
At easter 2009 Fredl Hofer visited me, and we recorded a song of him. I cutted the recorded material, and added bass and drums. For all, who know the Fredl: this a typical Hofer song!
---
12 Summertime
(3:3)
Gershwin / Mudshurko
Ein Lied aus Gershwin's Porgy&Bess, geschrieben 1935, gesequenzed von Eric Marquez. Ich habs wie bei den anderen Midi-File-basierten Songs über meine Soundmaschine geschickt, und ein Schlagzeug von MudShurko draufgelegt.
A song from Gershwin's Porgy&Bess, written 1935, sequenced by Eric Marquez. I sent it like the other midi based tracks through my sound machine, and added some drums, that's understood.
---
13 Lame Beggar Blues
(2:14)
Ixthuluh / Mudshurko
Dieser Blues stammt aus dem Ixthuluh-Archiv (Gitarre Dita Lasser, E-Bass E.P. Kirch), ich habe ihn aber kräftig überarbeitet, was bei dem verfluchten Audio-Basismaterial gar nicht so einfach war....
This blues originates from the Ixthuluh archive (guitar by Dita Lasser, e-bass E.P. Kirch), but I adapted this considerably, which wasn't easy with this cursed basic material....